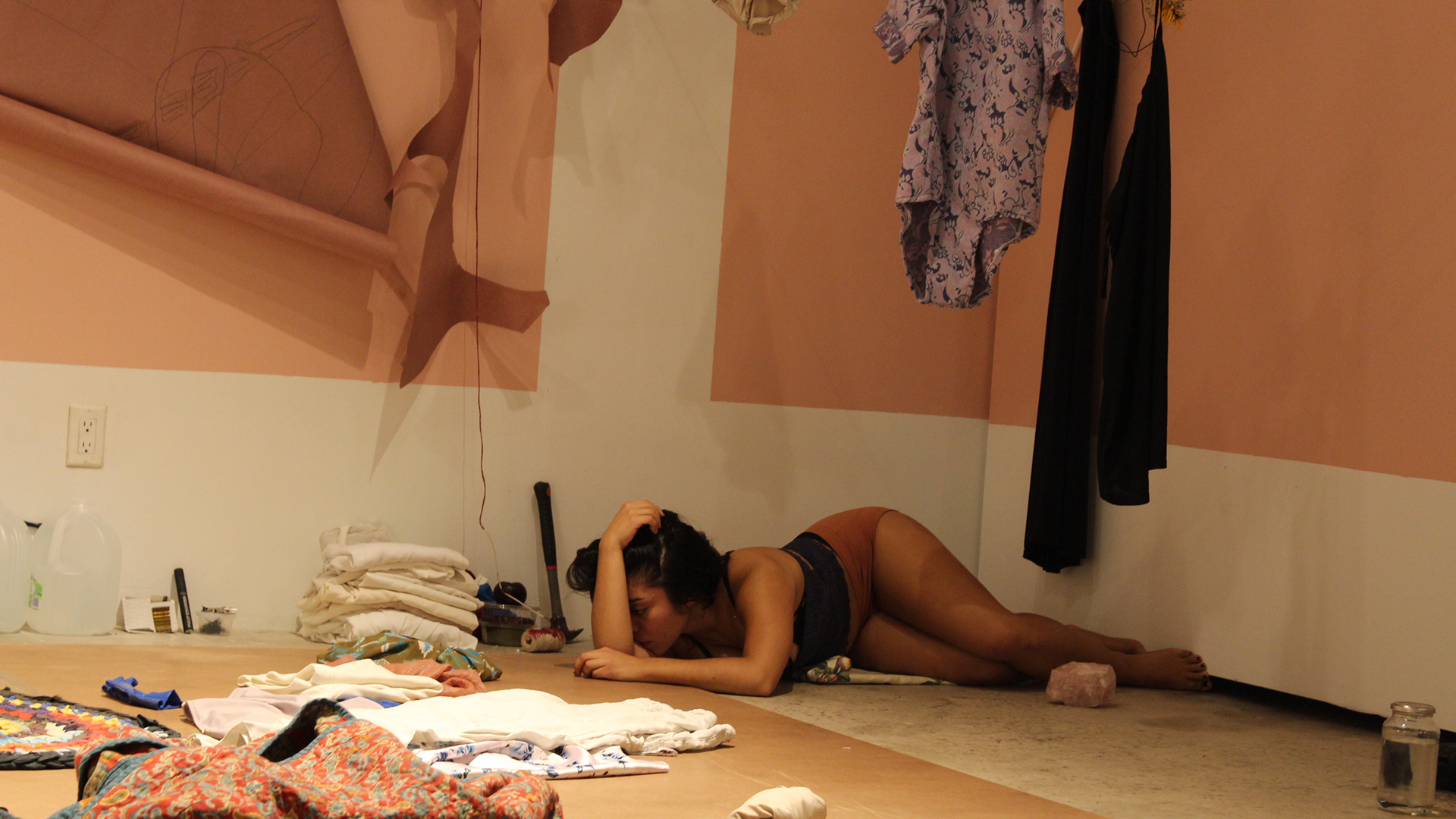 full title. a lineage//evolving installation, performance and archive of coping methods (july 12-sept. 8, 2018)
conceptualized, designed and choreographed* by anicka austin and performers
location. the museum of contemporary art of georgia
curated by. iman person as part of wonderroot's hughley fellowship
costumes. anicka austin, marian austin and performing artists
a lineage//evolving installation, performance and archive of coping methods was an installation of physical movement and personal objects accumulated over the course of a month at the Museum of Contemporary Art of Georgia. 
I asked four artists, on separate days, to fill the installation space with items from their personal lives that represented or aided in the performing of their coping methods. We specifically interrogated items that might represent coping methods that they wanted to leave behind or that were inherited. I created pedestrian movements that became performative acts of endurance of which the artists repeated to exhaustion. 
In this work: 1. the sound, created from loops of my humming, mimicked the softness of rhythmic vocal expression of black women and women coping with the performance of intense and often unrecognized physical and emotional labor. 2. The installation was inspired by a quilt given to me by my great grandmother. The quilt was symbolic of the desire to create objects that are both aesthetically pleasing and highly functional. As a functional object, quilts not only provide warmth, but are also often made from scraps of fabric that need to be repurposed. However, socio-economic function and necessity do not necessarily require the object to be aesthetically pleasing. I am curious about the relationship between beauty and function in activities and objects used for coping.
*Endurance exercises were choreograhed by me and all other movement and coping exercises were contributed by the performers. Illustrations were created and left in installation by melissa word and jennifer clark. Objects,debris and sounds were created and left in installation by me and all performing artists.