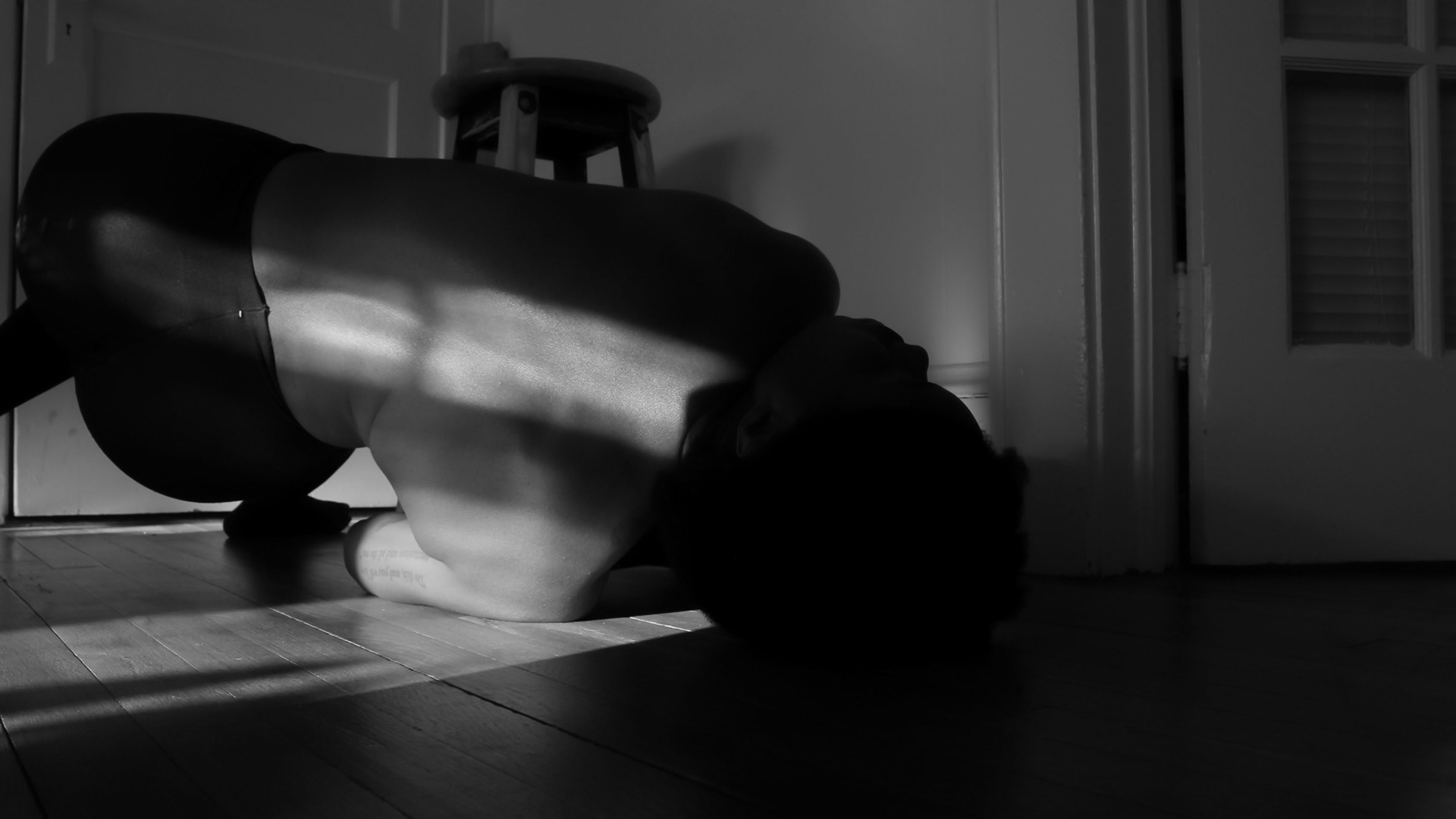 1 December 2019, 7-9:30 pm @ private residence
"WELCOME"

is a series of interdisciplinary arts experiences designed to encourage vulnerability and openness through performance in intimate settings.
This series is produced by The LOUDWALKERS, an interdisciplinary arts collective rooted in mindful practices, connection with nature and openness to community. The LOUDWALKERS aim to support, inspire and be inspired by local arts and artists.

Anicka Austin

 is an Atlanta-based choreographer and performer invested in infusing physical storytelling
traditions with meditative practices. 
Known for being a dynamic and versatile musician, Atlanta-born cellist, 

Alana Bennett

, has performed all over the world. She has studied cello for fourteen years and from the very beginning has expressed a natural talent for her craft. Since then she has performed in venues from New York City to Prague, and many places in between.
Jennifer Zuiff

 is an award winning classically trained singer, music teacher, artist developer and alternative recording artist in the metro-Atlanta area. Ms. Zuiff received her B.M. in vocal performance in the fall of 2010 from Georgia State University School of Music. She is an active member in the Atlanta scene as well as Georgia Music Partners (GMP) and The Recording Academy.
Based out of Atlanta, GA, 

T.J. Woolfolk

 is primarily a composer and percussion director. He began his journey as a writer at a young age, writing short stories and eventually starting to branch into poetry as he got older. Born in Mt. Holly, New Jersey, and beginning his musical career in Pensacola, Florida, he has been an active performer, arranger and educator for nearly his entire life.
Moe Winograd

 is a freelance double and electric bassist, private instructor, and luthier-in-training in Atlanta. He currently performs with the Georgia Philharmonic and the Georgia Symphony Orchestra.
Daniel Melton

 is a professional Atlanta, GA guitarist, composer, and educator. In 2016, Daniel completed his Bachelors degree from Georgia State University in Jazz Studies. During his time at GSU, Daniel played for the Inauguration of Barack Obama, studied music in Shanghai, China, and performed alongside jazz greats Donny McCaslin, Joey Defrancesco, Paquito D'rivera, Bobby Shew, and Mike Abene.
George Trotter

 has been making music in Atlanta for more than 30 years. He has played in rock bands, composed music for and performed in theatrical production for stage and film, and is a frequent collaborator with experimental improvisers.
Chris Gravely is an Atlanta-based percussionist, teacher and composer of classical and contemporary music. He began his studies with drum set in the fourth grade under the instruction of John LaMattina.  Later, Chris directed his focus towards solo and classical work, studying classical and contemporary percussion under the instruction of Michael Cebulski, Stuart Gerber, and Charles Settle.  He has and continues to play in many local Orchestras such as; Johns Creek Symphony Orchestra, Dekalb Symphony Orchestra, and the Korean-American Symphony Orchestra.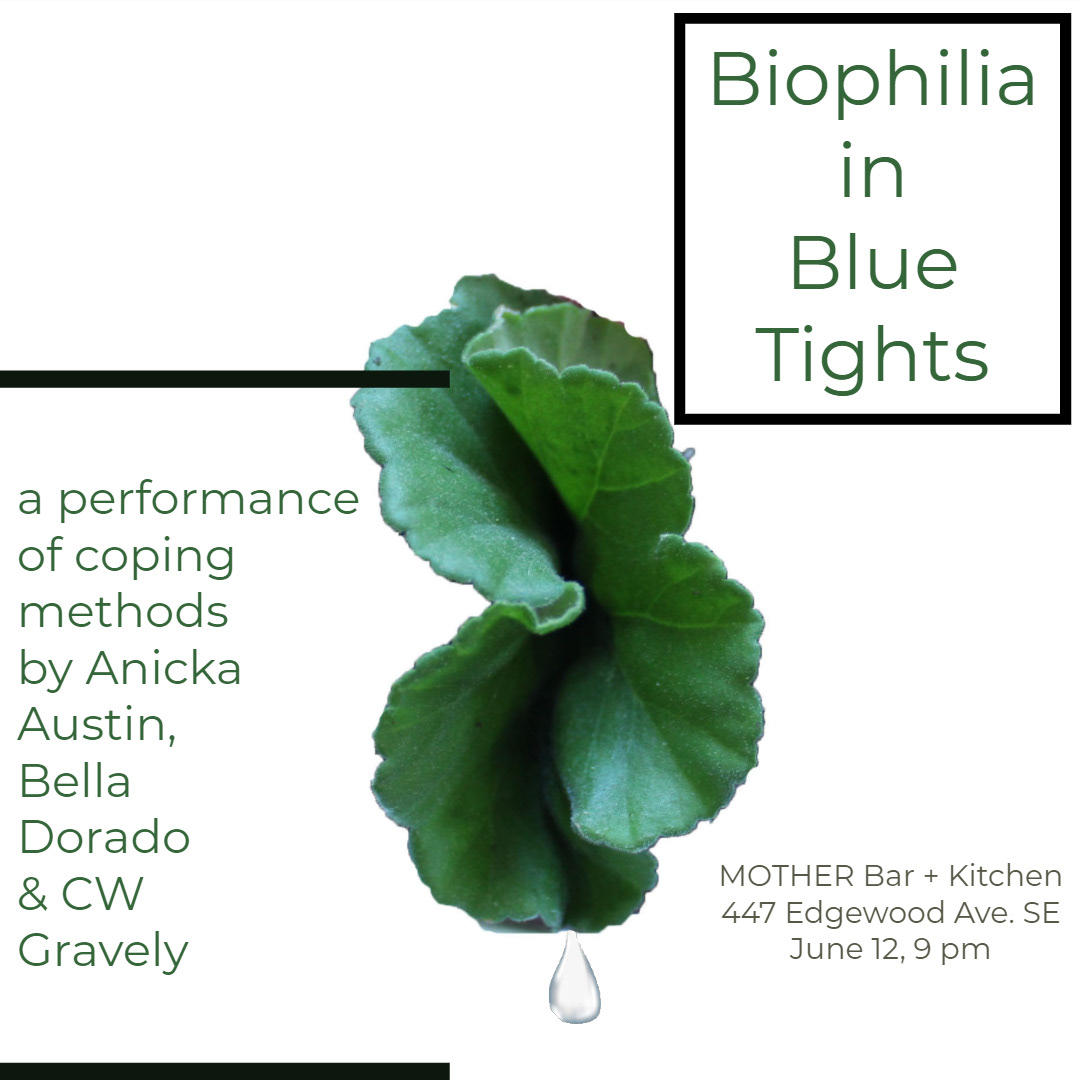 Biophilia in Blue Tights is a 20-minute performance of coping methods with experimental music, meditative movement, sensual gardening and wordsmithery by Anicka Austin, Bella Dorado & C.W. Gravely.
MOTHER Bar + Kitchen 
447 Edgewood Ave. SE
June 12, 2019 @ pm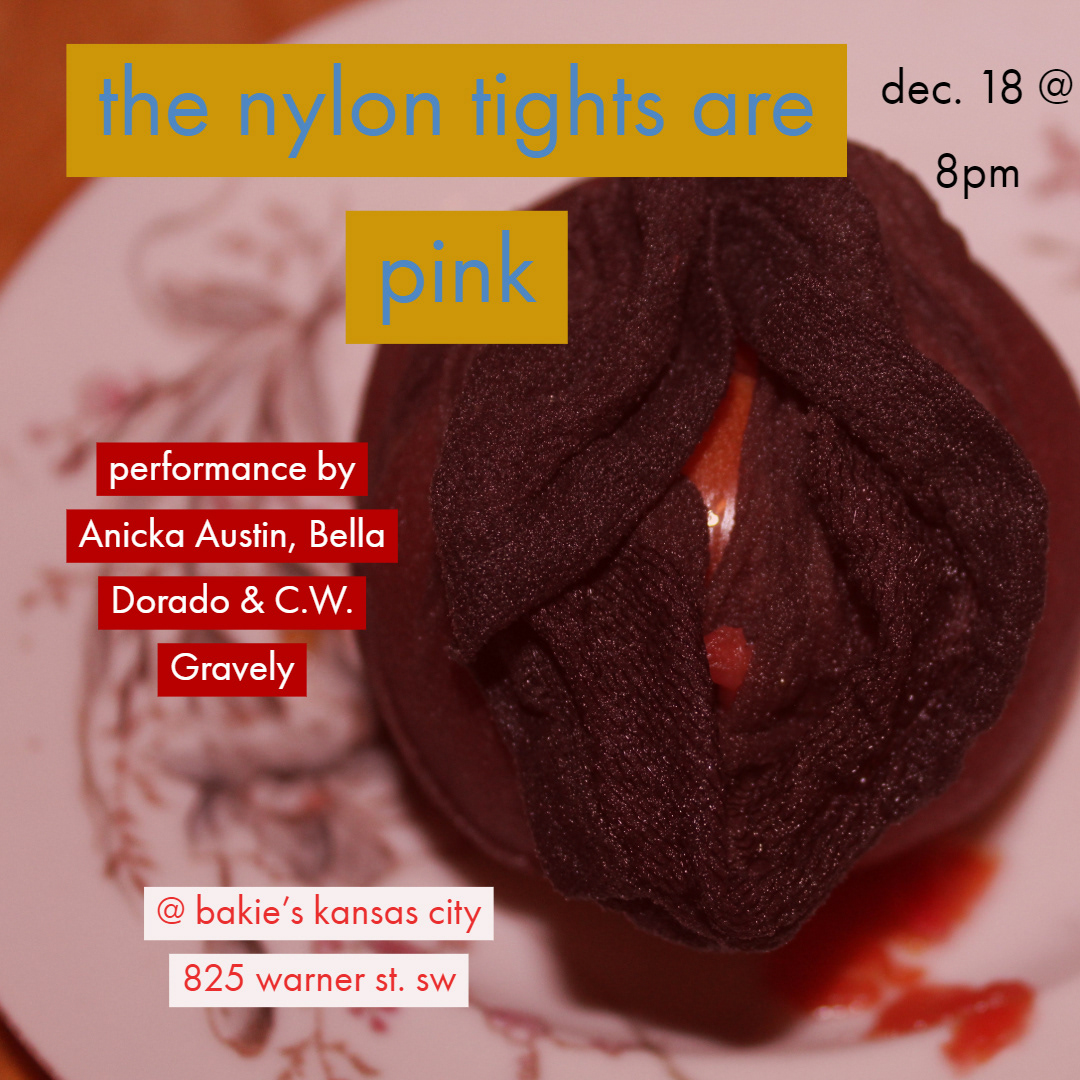 The Nylon Tights are Pink
The Nylon Tights are Pink is a 90-minute performance of coping methods. Dance, destruction and words performed and written by Bella Dorado.  Music and installation of dangerous and sensual objects by C.W. Gravely and Anicka Austin.
The Bakery Atlanta @ 825 Warner St. SW
Check out a conversation between Lev Omelchenko and I

about the upcoming film, Birth of Pleasure 

in the latest issue of DIY Dancer!