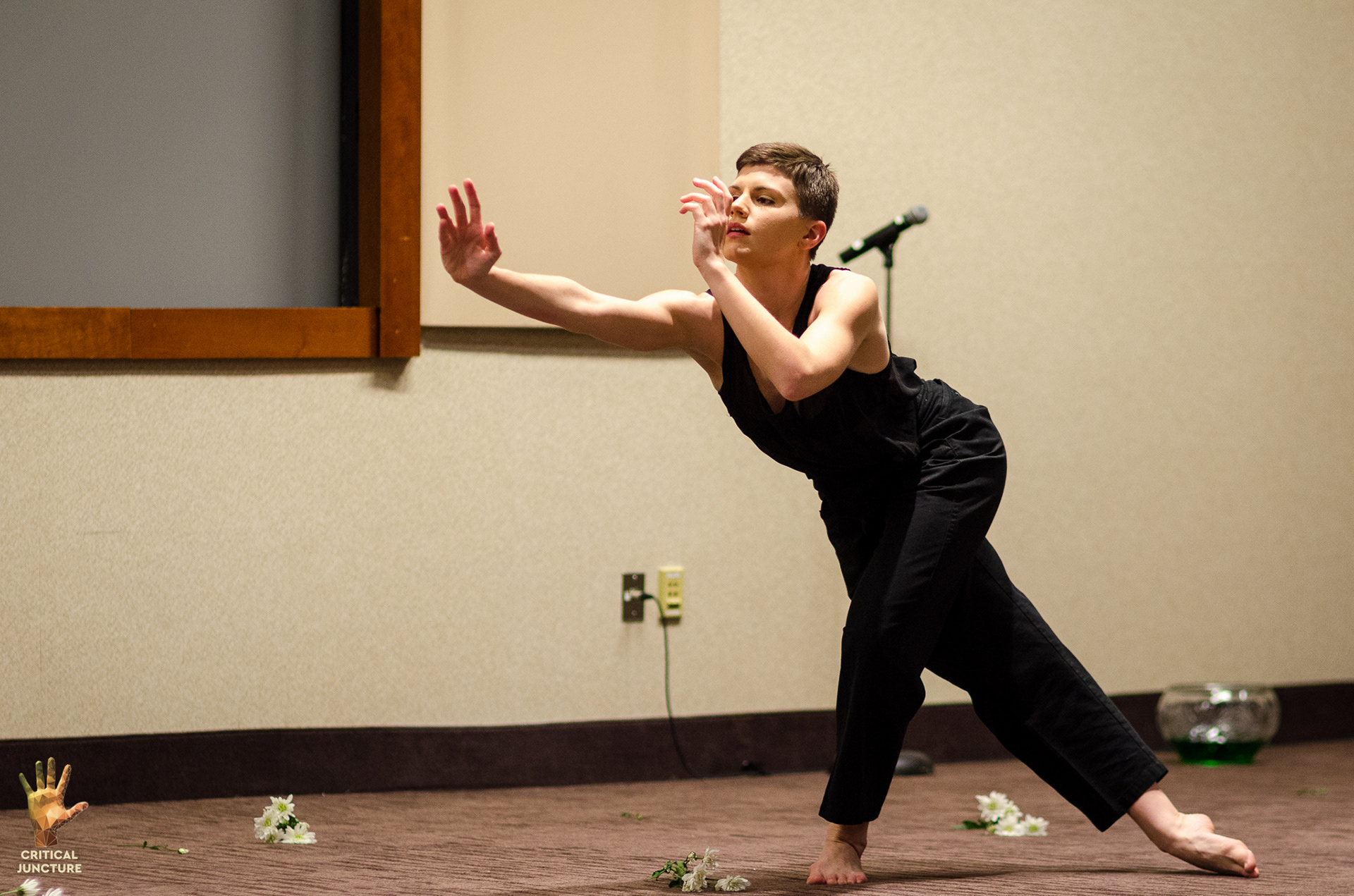 costume. anicka and marian austin
location. emory university, atlanta, critical juncture conference
Love Letter to Self: An Ode to Audre, Cupid and the Cosmic Orgasm
Choreography: Anicka Austin
Performer: Erin Anastasia
"When we look away from the importance of the erotic in the development and sustenance of our power, or when we look away from ourselves as we satisfy our erotic needs in concert with others, we use each other as objects of satisfaction rather than share our joy in the satisfying, rather than make connection with our similarities and our differences. To refuse to be able that might seem, is to deny a large part of the experience, and to allow ourselves to be reduced to the pornographic, the abused, and the absurd."--Audre Lorde, Uses of the Erotic: The Erotic as Power
I wasn't going to speak through parts of the dance initially. But here we go:
Joke about being a baby feminist and enjoying your infancy.
As an artist, I'd like to speak to pleasure and sensuality as primary vehicles for experiencing the world. I am choosing more and more on a daily basis to check in with myself on that and I encourage everyone to do it. Promoting social justice through reframing the body and touch as modalities that can uplift beauty and our relationship to ourselves. We hold inherent power to change our world. Relate to our world. I feel that sensuality is paramount to this.
Themes in this work are 1. touch and physicality; their importance in the relationship we have with other people, with objects and with ideas. 2. shame and uncertainty; questioning what level of eroticism may be welcomed by our friends, lovers, strangers, ourselves 3. the uniqueness of the aforementioned experiences to femme/female identifying, non-binary people.
Erin and I work very closely on many projects. All with varying levels of subject matter. All deeply personal. We performed a version of this work together at 368 Ponce here in Atlanta a couple of weeks ago. Or rather, what I would say is a section of the work called Habeas Corpus (you have the body). In that work, we broke blue and yellow plates that I had drawn, with white and black paint, crudely illustrated body parts on. It questioned/challenged viewing parts of the body as inherently sexual and the choreography was a mixture of intentional sexual movement that teetered between violence and hilarity. Two uncomfortable places to move in between in the span of 15 minutes. Erin is performing movement from Habeas Corpus along with some original movement from Love Letter to Self: An Ode to Audre, Cupid and the Cosmic Orgasm.
Learning and embodying through movement work
I have and accept the responsibility to carry love and compassion as weapons. I have and accept the responsibility to carry myself, my words, my actions in a way that recognizes that the energy that resonates from those spreads and creates loving environments around. Because it's bigger than me.
Intimate rehearsal/storytelling
Uplifting joy and radiance and color as part of what I consider my ancestral history. The narratives in my work are rarely directly about oppression or race or gender, to be honest. My work inherently speaks to that because they are all drenched in my personal narrative. I am interested in design, smart and pleasurable movement, journeys and visceral experience. Stories that uplift life and death and heartbreak and love. It helps me live in fullness to work with these themes or methods and when I see other people working with this, it inspires me to live a more full and compassionate life.
Beauty as inherently revolutionary when it comes from marginalized people and is outside of the framework that is popularly considered for art. Art as inherently organizing/activist. Taking up space.
Movement work and Beauty as next steps
Want to briefly speak on this.
Shout out Black Noize, Eshe, Bianca
Performing arts as protest by putting it in another context.
These are some of the thoughts from my journal that happened around the time of Habeas Corpus and my thoughts about reframing cupid, etc.:
(my sister lives in Macon and Phoenix is my best friend's baby) In Macon, I feel like there's space for me, that I can and need to love and that I am loved. When Phoenix is here,  I feel myself giving her that love. When I am alone, I feel myself trying to hone in on how I can give love to myself. When I'm with my friends, I listen and give them love. If my body and heart feel at peace, I feel like more of a light. There is a steady unrest in me. I'm listening. And I would like to leave. -----I go on to talk about reconsidering some projects I'm doing, and instead centering residencies, shorter term projects and learning more through being in the studio and experimentation.
You have a wealth of knowledge and a ton to share that you are passionate and excited about.
And last…..The Vegetarian. Did she really turn into a tree? It's so mysterious because she had so much strength and resolve even after she wasn't eating anymore at all. It was a book that clearly demonstrated how little we know about the goings on of our minds. Maybe she reached a capacity unfathomable by the people around her. She just wanted to be naked and eat lively foods. But she was also making weird choices. If we go outside our cultures standards, is that pathological? Especially if you can verbally ask for it.
I'd like to end this part with a wrap up of what I feel about art @ work in the context that I'm currently working in.
It is recognizing my identity and being available to represent myself as an artist, with my identities which are black, woman, beautiful and short. And to love those identities and let them be known loudly and boldly even while my work is talking about grapefruits or awkward relationships with exes. To not define myself based on one thing, but to honor that all of these things inform me and my decisions and my being as a person in this present moment. This for me allows for a level of compassion and understanding of realities that I am not living. Which just means more imagination, more empathy. These are qualities we need while we are doing this activist work.
It is to keep uplifting beauty. And remembering that striving is why we are here, not surviving. Beauty is for everyone and is a necessity. Beauty is not just one thing. We need all of your representations of beauty that come from your authentic self.
I encourage artists to consider that. And be diligent and persistent and know that your work is important. You can make your beautiful work and put it in a public space for sharing and that is activism. There is always a campaign against art. So keep going and rebel.
Last words from Audre from Poetry is not a Luxury:
"The quality of light by which we scrutinize our lives has direct bearing upon the product which we live, and upon the changes which we hope to bring about through those lives. It is within this light that we form those ideas by which we pursue our magic and make it realized. This is poetry as illumination, for it is through poetry that we give name to those ideas which are, until the poem, nameless and formless-about to be birthed, but already felt. That distillation of experience from which true poetry springs births thought as dream births concept, as feeling births idea, as knowledge births (precedes) understanding."