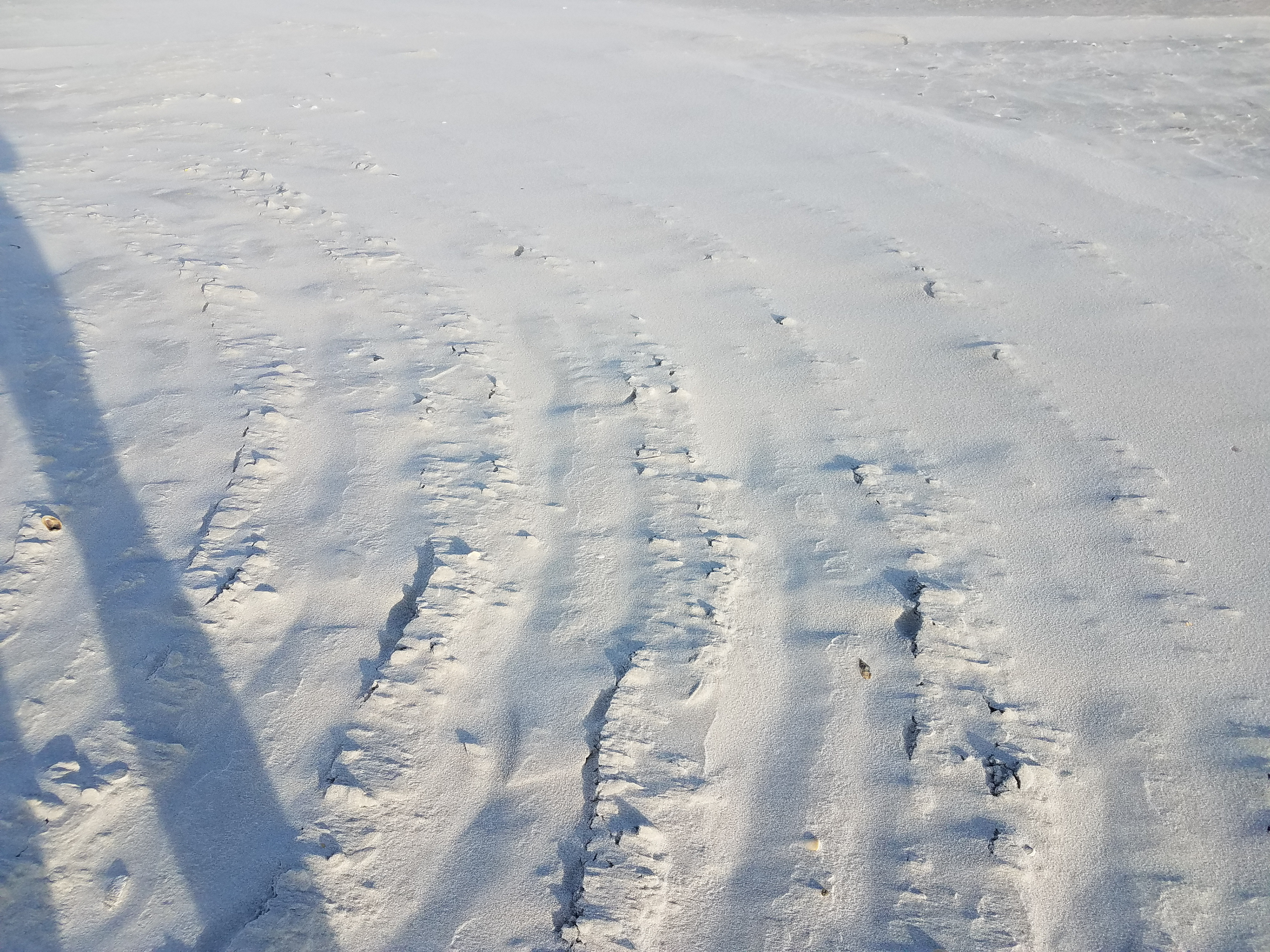 16 March 2019
Because every work is truly another work, re-worked:
As I hung out on Wrightsville beach alone, I drew repetitive lines and circles into the earth and considered The Nylon Tights are Pink. My inner thighs and arms were burning with the effort of pushing sand into what I could only think of as hieroglyphic messages to god. Another form of coping.
I thought of red nylons...and my use of the word nylons, which is based on Senga Nengudi's 1977 masterpiece, RSVP. The elasticity and femininity of sheer, flesh-toned fabric sheaths, that temporary layer of second skin, is true inspiration for future images I want to create through performance. The relevance of the sand messages is in their similarly temporary and skin-like nature, layer by layer blown away on what is an intensely windy March afternoon on the coast of North Carolina.
The wind was high during my first brainstorming sessions about coping in Ossabaw off the coast of Savannah in 2018.
There's also Ana Mendieta's Siluetas on my mind. The imprint of our bodies on lands that aren't ours...what does that mean...when you are experiencing life in a land that your ancestors never intended to inhabit? Their coping methods are the ones that got me here. If they gave up, I wouldn't be here. I felt lightheaded with the energy of that fact in the Bellamy Mansion Museum tour in Wilmington just before heading to the beach. The suffocation and heat of a rush of stories being transmitted into me, of love, of hate, of mundanity and repetition. Of having the capacity to do much more than many people are ever asked to do.  
I feel other women move through me in response to my asking about how I cope. How can I cope?, how will I cope?, how will I move forward?, how will I build on strengths I've already exhibited?, how will I remember that I've been here before?
After walking on sharp shells and feeling a jarring rush of cold water wash over my feet, I confront the wind head-on.Tiny knives of sand sting my ankles. I realize how much I love the pain of endurance in these instances. I imagine a backpack full of sand. I imagine sand creeping piece by piece into that second skin of the nylons, feeling both irritating and exfoliating. I imagine the heat and the deafening whistle of the wind as friends who are pushing me beyond my capacity. I want to understand how this is different from general exhaustion and the pain of working out/lifting weights, etc.
Where does learning how to endure get us? After you carry one heavy thing many times, you are usually able to carry more and heavier things, longer ways.
I've thought this way about love since I made some mental shifts in my thinking about commitment and friendship over the last three years. The desire to carry heavier weight is true for me now with love and long-lasting relationships. The reward is so high, but there are so many pain points as time goes on. I want to carry heavier things, both physically and metaphorically, because I want to be strong when my lover is experiencing difficult family dynamics and, without asking, needs me to be positive, or when a friends loses a parent. I could once easily dip out before things got too heavy, but I am much more fulfilled now that I stay.
Moments on the beach will be explored more through video. I already have one from Ossabaw (thank you Brandon and Ebony)  that I'm excited to edit and will pair that with 2 more beach recordings. There may be three in all: the Ossabaw process, the Wilmington process described above, and something vaguely in mind exploring extreme heat and some movements I set aside from my residency at Hambidge in 2017.